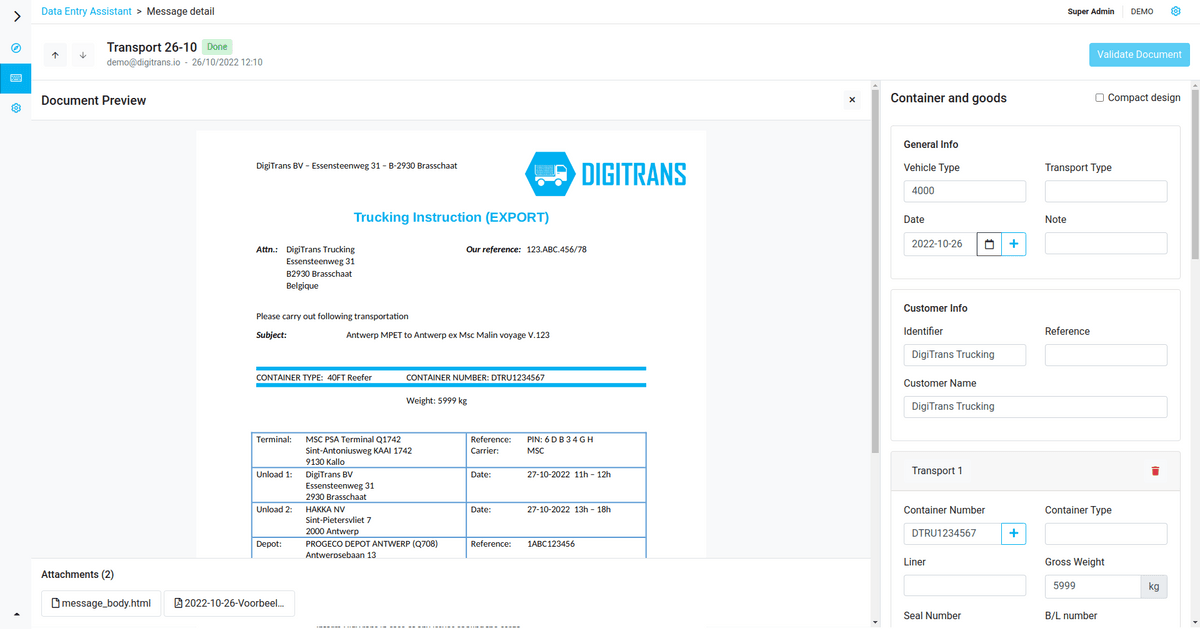 The need for a more efficient process
At Handico Trucking we believe in innovation. We are always looking what we can do to make the transport of containers more efficient and this process starts when we get a new order. Previously we introduced a driver app, which you can read more about here. Order processing is at this moment the part of the work that takes up most of our planner's work. We therefore started looking for ways to make this process more efficient.
We looked into various processes and products on the market. After careful consideration we opted for artificial intelligence (AI). We found a reliable partner to set up a working system. We compared various suppliers and eventually opted for DigiTrans.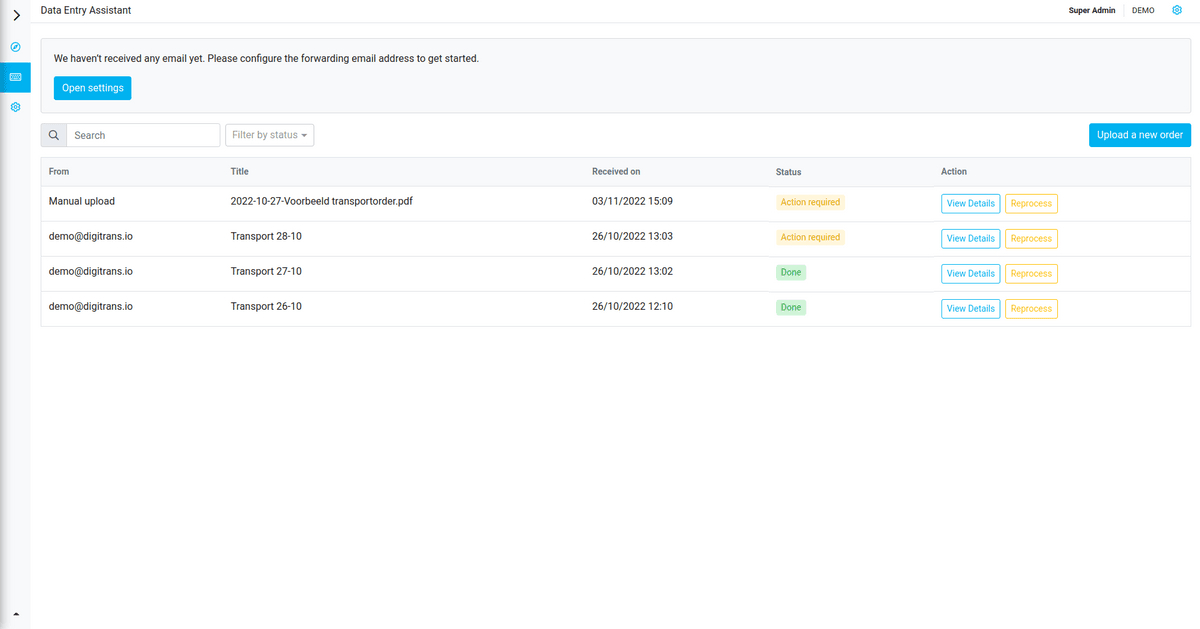 Why DigiTrans?
DigiTrans is a spin-off of the University of Antwerp and imec. They use the latest technology to develop added-value data processing and integration services. This service tackles the issue of segregation caused by using multiple independent software solutions. Every road transport operator knows that this practice leads to slow processes, delays, and extra costs.
DigiTrans' recent solution, the Data Entry Assistant (DEA), is an intelligent algorithm that structures our transport order data and pushes it to our TMS. We can link the DEA to any unstructured data source, like PDF, Excel, and Word documents, or even emails. It helps our planners read and interpret email's content. Once a full scraping and classification of this data is done, the DEA produces standardized information that can be read by our TMS. It is almost like riding a bike with no hands, our planners can keep on pedaling to complete their tasks and the DEA does the dirty data-entry job.
Continuous learning
As we want to innovate at Handico Trucking, we do not want a system that is static. Digitrans could offer us an intelligent algorithm which learns constantly from the input and corrections planners do. This happens while our planners carry on with their regular tasks in their day-to-day job. The back-end system closes its own learning loops by constantly checking which information was added or corrected by the planner, evaluating which information can be automatically found, where it can find or check which other context information could be used to make correlations for future processing of data.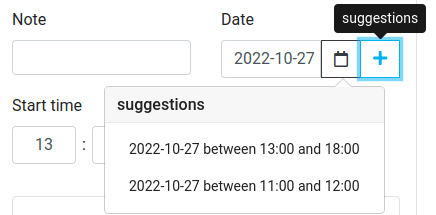 Help right from the start with complementary technologies
Sometimes it is difficult for planners to make the switch to new systems. Using the DEA is also a entirely new way of working. In DigiTrans's DEA they have developed and integrated new technologies that will stimulate our planners to use the DEA. To mention a few, Digitrans uses extra technologies for grouping similar data in one bundle or pull up text via a type-ahead functionality. As this makes the benefits of DEA visible right from the start, this was an important factor for us at Handico to opt for Digitrans.
Handico Trucking and DigiTrans have agreed to only launch a new version of the algorithm when business analysts are sure that the solution works correctly. This ensures our planners to have full trust that they get a helping hand and not have to worry that certain learning trajectories might fail.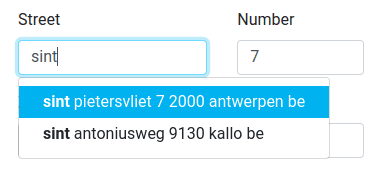 Counting down towards the final implementation
The DEA is the perfect add-on to help our planners at Handico Trucking. The initial tests are completed, and we are working on linking the DEA to the TMS. Handico planners will soon be able to process most orders much faster and make changes that would improve the DEA.
Are you interested in how you can help us to make this an even bigger succes? Or would you like to know what other things we are doing to innovate our workflow further? Then click here contact us now.